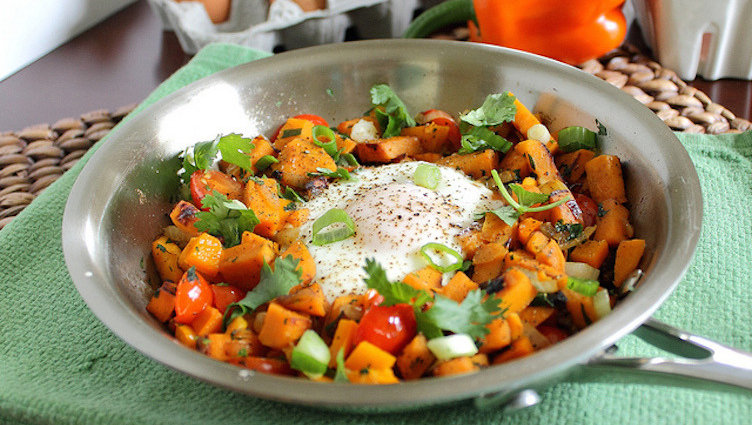 In addition to all that, they could be prepared in a vast number of dishes, and broiled, baked, sauteed --including these 45 fitter recipes that range from savory breakfasts to snacks that are salty to chocolate-y desserts. Stock upward on revel in the orange tater a different manner daily and it!
Talk about your breakfast of champs: Sweet potatoes, heart healthy olive oil, a whole lot of kale (that's an excellent source of fiber, calcium, iron, and vitamins K, A, and C), and some protein-packaged eggs offer up a filling, well balanced morning meal. !
All these are a delightfully uncomplicated, fitter variation of the classic latke: Sweet potatoes blended with onions, eggs, panko, and a little of the flour of your choice (select whole wheat for an additional wellness boost) are baked--not fried--into pancake-y perfection. !
These adorable small morsels make excellent cuisine as a portion of a weekend brunch that is comfortable. Vegan and free of gluten, soy, and dairy product, they still manage to pack a wholesome punch thanks to their low sugar content, together with the inclusion of cinnamon, pecans (which are an excellent source of magnesium, phosphorus, zinc, and extra nutrients), and quinoa flour. !
Yes, you read that right. This smoothie packs in soymilk, sweet potato (or a different milk of your picking), protein-rich yogurt, honey, antiinflammatory cinnamon, and some vanilla to flavor. It is like pie that is liquid (without all of the sugar and material and crust).
Bake, cut it in half, scoop out a little the flesh, add a tiny touch of butter, and crack an egg in the hole. Bake, with salt and pepper, and shabam: you will be full till lunch. (Alongside a tiny green salad, this may likewise make a terrific lunch or light dinner!)
These pancakes are full of healthful, wholesome ingredients: Whole oats, a little almond milk, an egg, some pecans, and super-spice cinnamon bring the construction and flavor, while sweet potato brings a lovely orange color and healthful dose of fiber to these cheerful morning 'cakes. !
Hummus only got more exciting. The conventional chickpea-tahini-olive oil recipe takes a walk on the wild side together with the inclusion of sriracha, sweet potato, garlic, nutmeg, and cinnamon. For an extra-sweet-potato-ey couple this dip together with the sweet potato crackers bite, below.
Wow your dinner guests with these adorable small morsels packaged with flavor (thanks to some pepper, red wine vinegar, and Dijon mustard) in addition to protein from goat cheese, healthful fats from pecans and olive oil, and vitamins from sweet potatoes, celery, and shallots. !
These crackers that are cheery share Goldfish's shade --just their colour comes thanks to the sweet potatoes. Add in the baking flour of your choice and only a tiny touch of butter, baking powder, and salt, sugar, and you are all set.
Ideal for matching with your veggie quotient on a cool day, these roasted sweet potatoes, carrots, and parsnips get kicked up a notch together with the inclusion of honey and heart healthy walnuts, which research indicates may have antibacterial properties, particularly in uncooked kind.!
This one's as easy as it gets. Collect garlic, some rosemary, sea salt, pepper, heart healthy olive oil, and your sweet potatoes --and that is it. Combination 'em all together, pop 'em in no time, and in the oven you will have bite or a nutritious savory side.
As if we had forget! All these are not so bad you will not even miss the Burger King assortment. Put a piece of parchment paper on a baking sheet, cut up some sweet potatoes, throw with any seasonings of your choice (experiment with sweet alternatives--like cinnamon or nutmeg--and savory ones--like cayenne pepper or curry powder--to alter the flavors), bake, and love! Simpler than simple.
No should add the marshmallow These yams bring all the sweetness that is essential to the table. Add in rosemary, olive oil, and an optional garnish of toasted pecans, and you have got yourself a considerably better-for-you variation of the classic comfort food.
This recipe gives almost all its ingredients in the name away. Good for you onions and sweet potatoes meet up with some chicken broth, a little sugar and butter, and lots of aromatic spices (including nutmeg and thyme) for a meal that is delicious, easy, and perfect for hot or cold weather.!
Tailgate or no potluck is whole without potato salad. Attempt this fitter spin on the classic: Sweet potatoes, protein- toasted cashews, rich Greek yogurt, and some salty and sweet add-ons make this side dish great for the taste buds as well as the body.
This dish is morsel and love at first sight. Sweet potatoes, the pasta of your choice (go with whole wheat for a wholesome angle), a little olive oil and balsamic vinegar, and a few stacking cups of spinach make for a wholesome, filling, meal that is fit for lunch or dinner and hot or cold weather. !
The name makes us drool. A sweet and garlicky sauce gets paired with an astonishingly good for you dough (it is full of superfood spices like ginger, turmeric, and cinnamon) and a tasty, wholesome filling of onions, sweet potatoes, curry paste, carrots, garlic, coconut milk, and lime juice. !
These versatile miniature cakes could be utilized in various manners: Top a salad, eat as a veggie burger, throw in a pita with tzatziki and some veggies, or merely eat 'em on their very own. A little bit of whole wheat breadcrumbs, garlic, quinoa, eggs, veggies, plus our beloved sweet potatoes form the foundation for these pretty, wholesome entrees.
Yes, all these are as healthy as they seem: Veggies, avocado, and fruits like cherry tomatoes, red bell pepper, and lime, join together with the complete protein of quinoa and (of course) sweet potatoes to produce the filling for all these corn tortillas. The sauce calls for half mayonnaise, half plain yogurt, but feel free if you are seeking to cut back on calories to upwards the yogurt ratio.
Save this warm, substantial curry for a cooler day to make the most of comfort food component. An entire lot of body-fostering spices go into this mix of protein-rich lentils (which are an excellent source of potassium, iron, folate, and antioxidants), nutrient-packed veggies, along with a garnish of almonds for crunching.
You may need to wear shades while cooking: This meal is severely bright. Cook together onions, garlic, cauliflower, sweet potato, tomato, raw cashews, as well as a slew of healthful spices (including cumin, turmeric, and cayenne pepper) with lentil sprouts before scooping them into red and orange pepper "bowls." They are certain to dazzle guests and please your senses any day of the week. !
Here's another one for a cool springtime day. Spinach, chickpeas, veggies, and seasonings are sauteed collectively to form a warm, nutrient-rich topping that is ladled over a baked sweet potato. It is comforting, nutritious, and wonderful all at the exact same time.
These brilliant quesadillas are full of baked sweet potato, sauteed onion, chopped a bit of cheese, and spinach before becoming all sorts of gooey. Top with fresh salsa if you are feeling additional healthful, Greek yogurt rather than sour cream.
Um, YES. Pureed sweet potatoes supply the foundation for this unusually healthful pudding recipe, which gets more flavor and sweetness from only a little almond milk, maple syrup, unsweetened cocoa powder, espresso powder, and vanilla extract. We'll require three instances to go, please.
This one offers additional evidence that going gluten free does not need to mean going without baked goods for the remainder of your life. This wholesome-looking pie is created out of just six ingredients: eggs, mashed gluten free flour, some sugar, pumpkin pie spice, coconut milk, and sweet potatoes. Burst it in the oven and you will be scooping pie immediately.
We could have preserved the best for last. These chewy brownies look like the old school variety but use some severely healthy replacements for classic pantry staples. Avocado, dates, sweet potatoes, applesauce, almond meal, vanilla, and raw cacao make for a sweet (comparatively low-sugar), gooey concoction ideal for capping off a backyard potluck. Bonus: They're gluten-free!